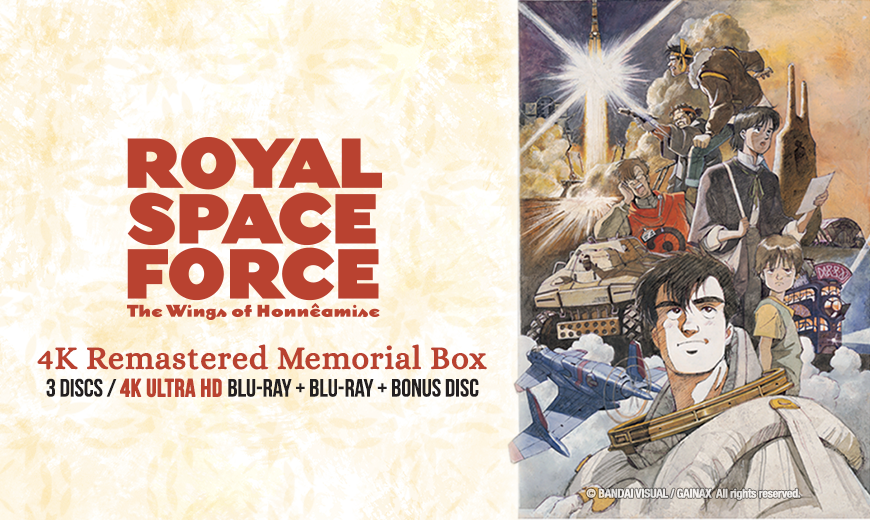 Section23 Films to Distribute ROYAL SPACE FORCE – The Wings of Honnêamise 4K Remastered Memorial Box
---
HOUSTON – August 16, 2022 – Home video distributor Section23 Films announced today a special collaboration with Bandai Namco Filmworks Inc. to distribute ROYAL SPACE FORCE – The Wings of Honnêamise, the first feature-length animated film by renowned anime studio GAINAX. The film has been remastered in stunning 4K in honor of the legendary film's 35th anniversary.
Section23 will offer the Japanese special edition of the product, complete with English subtitles, English dub, and gorgeous bonus features perfect for the discerning collector. Extra features include an audio version of the Pilot Film never released on laser disc, a BGM collection accompanied with many Image Boards, the "Document File," released only in 1987, and more! The product will be distributed in North America concurrently with the Japanese distribution, allowing fans abroad immediate access to this exciting and exclusive rerelease.
Bandai Namco Filmworks Inc. describes the plot of the film as follows: "The Royal Space Force is established in Honnêamise - a fictional kingdom on a fictional planet. Although the force boasts 30 years of history, they haven't been able to achieve solid results; people and the government have given up on them, seeing the force as a burden. Shirotsugh Lhadatt, the protagonist, is a member of the Royal Space Force, which far from their dreams have gone into idleness.
One day, Shirotsugh meets Riqunni, a girl who preaches God's word, and his destiny drastically changes, leading him to volunteer to be a space pilot..."
Prepare to witness the legendary film that revolutionized the anime industry, launched the careers of dozens of today's animation superstars such as Hideaki Anno and Yoshiyuki Sadamoto of Evangelion and put Studio GAINAX forever on the map as one of Japan's premiere production houses. Staggering animation, brilliant storytelling and a scope that goes beyond epic combine to produce an emotional powerhouse that will send your spirit flying towards the stars with ROYAL SPACE FORCE – The Wings of Honnêamise!
About Section23 Films:
Section23 Films provides home video marketing and distribution services an array of labels and imprints including Sentai, Maiden Japan and Switchblade Pictures. With its special focus on genre entertainment, Section23 Films distributes some of the very best anime, martial arts, and horror titles on the market today.
# # #